November 01, 2014
monoblogue music: "Diamonds & Demons" by Paul Maged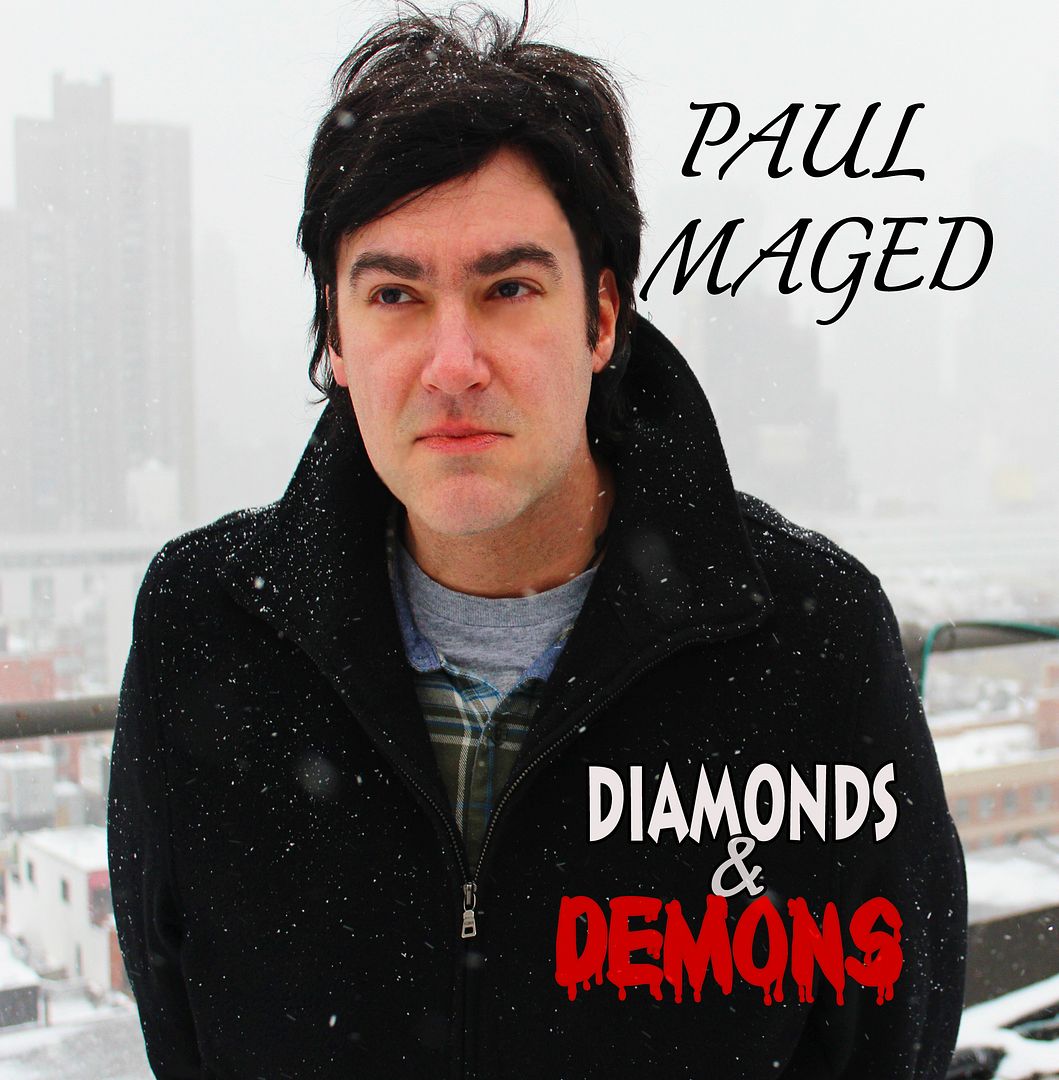 Out of all the music I've reviewed in the several months I've been regularly reviewing albums, this is perhaps the best example of straight-ahead rock and roll I've come across. There aren't a lot of studio tricks, thumping bass and drums, or any of the other fluff which seems to define rock these days. "Diamonds & Demons" is pretty much simple and no-frills for most of its 16 songs, a number which clocks the collection in at about an hour.
Based out of the New York area, at certain times Maged's vocals and the fact he plays piano and keyboard throughout the album can elicit thoughts of another New York-based piano man named Billy Joel. But this compilation is much more guitar-based, with keyboards playing a secondary role.
To use an example of this, here is the leadoff song and first single, Look At Me. The video has Maged simply as singer, with a slightly different backup band than the group credited on the album. Featured in the video is Maged's touring band, if you will, called The Strangers.
Overall, the song has a great hook, witty vocals, and plenty of appeal. It could be on your local rock station tomorrow and many would want more. Images, Last Days, and the title track also share many of those same characteristics, with overdubbed background vocals adding a different touch on Images and I'm Okay, while Paul gets a little more political on the third track, Cause & Effect. So where is peace anyway? (It's on the 45-second outro, which I believe was added at the end of the last track.)
The first six songs are a sextet of hook-heavy rockers throughout but track seven, Blind Faith, starts in a different direction as the keyboards take over on the intro, returning in different form on the bridge and resuming for the closing bars. It's just enough variety to make the listener perk up, and smooths the transition so that Annastasia, with its added accordion, isn't as jarring. After all, life is what you do with it, as Paul sings.
Maged gets a little bit of an attitude on Human Warfare, one of the hardest rockers on the album. It's tempered a little with some slower sections but as a whole it's quite heavy, just like the next song Love & Loss In The Western World. The latter slows down briefly in the middle, but cranks back up in time.
Toward the end we get more of a musical grab bag. Lyrically My Dear Love is quite well-constructed, but may have worked better in the acoustic manner in which it began. It would be interesting to hear an unplugged version to match up with the lyrics better, much as the piano-based Somber Song was done. I'm Gone is the one which comes closest to the sound exhibited on the album's opening half-dozen songs.
One thing I gleaned from reading up on Maged's band is that there were originally going to be 14 songs on the CD, but last summer "a new punk rocker has been born" which I'm guessing was Not Complicated. The sixteenth song, properly described by Maged as a "bittersweet ballad," turned out to be the closing track 64th & 1st.
With 16 songs, there's always at least one which doesn't work that well. Going for the tropical vibe on Paradise Island makes it the weakest link as the parrothead trend is somewhat played out. But Maged limits the damage to just that one song, making the collection one worth having.
It's getting to the time of year where annual Top 10 lists begin to be created. Since I don't have monoblogue music every week (and only started in March) ten may be a little much, but certainly a top five is in order. And unless something comes and blows me away in the last two months, I would put this album squarely in that top five. Despite a couple weaknesses, this is the type of album which could push Maged and his band from being a local New York City act to at least a good regional status. All they need is the wherewithal to make a tour of it and hit some clubs along the East Coast, and the music can do the rest.
While I had access to a private review copy, those who want to check out a few sample tracks can go to Maged's website and listen to four songs. That way you don't quite have to just take my word for it; instead you can listen for yourself.
October 29, 2014
ALBUM REVIEW: Paul Maged, 'Diamonds and Demons'
A lot of singer/songwriters pen songs with a conscience. But, unless they're Bruce Springsteen, rarely do those tunes mix catchiness and a playful vibe with a biting edge and in-your-face social commentary. NYC's Paul Maged, however, manages to achieve that tall order, rightfully earning his name a place next to Springsteen's when describing his music.
Maged's sophomore effort, Diamonds and Demons, navigates through climate change, human warfare, and religion, while never losing its rock 'n' roll soul. Though it feels raw in its production, that treatment lends itself both to Maged's lyrics and his voice, that of a sometimes-actor/comedian. In lead single "Look at Me," Maged takes on the younger generation's apathetic disconnection and name-checks Wall Street (pretty appropriate when considering that Diamonds and Demons was in its infancy during the massive Occupy protests in 2011).
On the album's titular track, Maged incorporates some good ol' hard-driving rock, while the album's other 16 tracks fluctuate between spiritual psychedelia ("Images"), power ballads ("I'm Gone"), and downright beautiful and soulful ("Annastasia"). Though it hits a few rough patches, Maged's powerful voice is the glue that holds the album together and creates a cohesive package that any fan of modern rock can appreciate.
If you're looking for mindless, synth-saturated, indie rock or power pop, this isn't the album for you. If you are, however, bored to tears over that exact sound, then good news! Fresh, invigorating and even educational, Diamonds and Demons breathes new life into what some said was a dead genre. But, Paul Maged proves rock 'n' roll isn't dead; it just needed a reason to get out of bed in the morning.
September 29, 2014
Just last week, New York-based singer-songwriter Paul Maged released his sophomore LP, entitled Diamonds & Demons. With a wide array of influences including everyone from Billy Joel and Jimi Hendrix to Green Day and Pearl Jam, Maged's newest is unsurprisingly diverse in sound and structure.
We had the chance to speak with Maged for a bit and discussed his newest album, the important concepts it covers, and how his interest in music began at a young age. Follow us through the break below and get an in depth look into the mind and career of Paul Maged.
How long has music been a major part of your life? What first inspired you to get involved with it and how did you get your start?
Music has been part of my life as far back as I can recall. I remember listening to old Billy Joel albums and being so moved by his music that I began writing my own songs when I was around 8-10 years old. I would write lyrics and have the melodies for them in my head. There was one of his songs which was very obscure and I learned it and sang it back to my mother claiming I wrote it. She thought I was a child prodigy [laughs]. Around that time, my dad bought me a tiny two-octave Casio keyboard so I could begin creating the melodies around the lyrics. Those were somewhat the formative stages of songwriting for me. I recently found some of the lyrics that I wrote and I was actually surprised that they weren't terrible. Then during high school my father got me into the Boston Conservatory of Music for private vocal lessons with a popular local opera singer. That really gave me the foundation and technique for singing and breathing the proper way.
And along the way, who would you say have been some of your most important influences that have helped shape your sound and style?
There's so many. Growing up my dad turned me onto soul/R&B music; Sam Cooke, The Drifters, Motown, and I fell in love with that sound. Then my own explorations took me to Zep, The Beatles and Jimi. Then I went through my singer-songwriter phase of worshipping Billy Joel and Elvis Costello and then into my grunge phase which I think I'm still lost in — [laughs] — of Pearl Jam and Soundgarden. Green Day is also a big influence for me. They can go from writing theatrical melodies with well thought out stories to straight up 3-chord punk, which I love. R.E.M. is another big one for me. Current bands have influenced me too. I love The Shins, Band Of Horses, old Strokes and early Killers.
I hear everything from classic rock to bits of punk throughout the new record which the influences you mentioned would certainly account for. Are these styles that you purposefully set out to display when writing this new album or do these sounds just kind of organically develop as you create?
That's a great question. I'd say it was a mixture of both. I love so many styles of music but overall I was trying to make a really good modern rock record and was feeling very grungy and punky throughout much of the process [laughs]. There were times when I said, "Okay, I'm ready for a real rocker now and I want that grunge feel" ("Images" and "Human Warfare"). At one point I wanted to take a step back and write a total singer-songwriter type song and I wrote "Annastasia." Other times it would come out organically like with "Look At Me." That started out with more of an R&B vibe but then I kept hearing that cool riff and it morphed into a classic rock sounding tune.
How would you describe Diamonds & Demons compared to your previous works?
Far more evolved in every way shape and form from my first album. The production. My first album has some good songs but it was produced by a nut job who would half-ass it. You would only get a couple of vocal takes. During those takes most of the time he wasn't even in the room. He was out smoking cigs or shooting the shit. Vocals weren't properly fixed, drums sucked, the musicians weren't consistent and there was very little collaborative effort with the producer. It's hard for me to even listen to it now after this one, from a production standpoint.
Diamonds & Demons is a professional album. It's produced by multi-platinum producer Sean Gill who is a pleasure to work with. He is a musician and songwriter himself and will go the extra mile all the time for the artist. It was a stark contrast from my prior album and one that created a very positive recording experience.
From a songwriting perspective, I really tried to challenge myself. Each song I forced myself to try something different outside of my comfort zone–let go of all inhibitions–and I think it shows in the writing of the words and the music. It is a more mature piece of work.
You have some pretty important themes and messages that you explore throughout the album lyrically. Can you explain that a bit and where these ideas and convictions stem from?
Well, like most people I watch and listen and see what's going on in the world and a lot of things bother me. Killing sprees, new wars, climate change, greed, political gridlock, religious extremists and the list goes on. These are issues I become passionate about and I feel compelled to discuss them through my music.
On a broad scale, the root of what I want, and I think what most people want, is peace in the world and a happy and healthy planet, but we certainly aren't going in that direction. I believe the more that people bring the issues that they are passionate about into the open, the more chance we have of progress and change. We need individual thinking not the following of the herd.
World leaders need to step up and do something about climate change. It is real and it is science-based. Politicians and those whose extreme religious views block their ability to side with logic and science, are the ones to be afraid of. They are the ones that will stand in the way of progress and our planet will pay the price, as it obviously already is.
Though there are a handful of songs on the album about social issues, the larger part of the record is just about living an everyday life and the emotional struggles we endure as we navigate through our own individual journeys. Growing up, getting older, loss of loved ones, being nostalgic for another time, sadness, wanting to get away from life for a while, finding true love. This to me is what my album is about. Humanity, finding oneself, soul searching, regrets, love and death. I think it's something everyone can relate to. It's about finding our way as individuals and as a planet.
There's a lot of instrumentation going on throughout the release. Do you play all the instruments or did you have anyone else helping out with that aspect?
I play keyboard and piano on the record. Ari Friedman plays all the amazing guitar parts, including electric, acoustic and bass. We tried to bring back the guitar solo which you don't really hear much in music anymore and Ari did an awesome job creating some sick solos. Marc Hoffman is on the drums and he created some really kick-ass and complex drum parts.
What do you feel you bring to the table that's going to catch listeners' attention and make them want to care about this record?
A strong opinion on themes that people care about and are passionate about. I also just really wanted to make a good old-fashioned rock album. It's a dying breed in this watered down pop and hip-hop culture. I grew up on rock and it's who I am and I'm proud of the fact that this album rocks. It has honest and thought-provoking lyrics, catchy melodies and powerful vocals. The musicians on the record and the production are both stellar. It has something for everyone. There's even a pop song with an R&B vibe and a reggae-inspired chorus ("Paradise Island") so it's not all rock [laughs].
Do you have any touring plans in support of the release?
For now local gigs in the New York area.
With the album completed and set for release, what have you been working on since finishing it up? Any new plans already in motion?
I have recently started writing new music that will hopefully make up my third album and I'm curious to see where the music is going to take me. I'm looking to really explore different dynamics within my music, getting into more mood driven and atmospheric pieces.
Overall, what do you hope to accomplish with this project? Any major goals that you've set for yourself as a musician?
A 'Best Rock Album' nomination at next year's Grammys? Or not. I seriously just want to be creating new music. It's the process of creating that is gratifying to me personally and to continue to grow as an artist. I have poured my heart and soul into this album for over 4 years and am very proud of it. I have now put it out there into the ethers of the internet which is scary and exciting at the same time. Whatever path it takes me on…
October 28, 2014
"Human Warfare" takes on a similar connotation as Maged looks into the many distinctions between groups and the overwhelming similarities that each group has. Paul in essence would like to know what the point of the fighting is all about, really given such profound similarities. With "Somber Song," Paul goes into himself and looks at his own ideas and ideals about what is and what shouldn't be. The finale, "What Is Peace" is as plain as one can get in song. Maged is looking for peace and wonders who else does and if society were to achieve it would we know what it is. It is roughly a few seconds, but is a fitting close to an album that takes on some controversial dilemmas.
Paul Maged acknowledged that some of his greatest influences are Green Day, Pearl Jam and Billy Joel along with several other classic rock bands and artists who tackled meaningful subjects and struck an urgency in listeners to get involved in making the necessary changes to their world before it was too late. A native of New York City, Maged has experienced a multitude of issues and observed a lot throughout his solo career that makes for an insightfully, provoking sophomore release.
Final Grade: A
Learn more about Paul Maged on these pages:
www.paulmaged.com
www.facebook.com/paulmagedmusic
www.twitter.com/themagedman
October 24, 2014
Paul Maged – Look at Me
"Look at Me" is a the lead single off a recent second full-album release titled, "Diamonds & Demons". The album covers a wide-range of subjects but "Look at Me" couldn't be more appropriately named. In the midst of some beautiful musical chaos, Paul manages to script a message conveyed towards taking a shot at elitism and greed in today's society. Paul creates his own unique sound and definitely is an artist for a new age.
October 30, 2014
Diamond and Demons by Paul Maged
Paul Maged is straight out of the gate rock and roll. He reminds me of a hard rocking Billy Joel and Bruce Springsteen. He's ballad moments are reminiscent of early Joel and Springsteen but if you really listen you'll hear parts of Blind Melon, Soundgarden, and Stone Temple Pilots.
"Diamonds & Demons" was released on September 23, 2014 and lends a focus on a vast range of humanitarian concepts such as our rapidly evolving culture relating to religion and society, climate change, controversial social issues, and war.
He's songs are from the heart and soul. Bold, aggressive, wide open, and throw it in your face reality describes what you find in this album.
These songs are about a journey. "Look At Me" is about greed and selfishness in today's society and how it effects us all. Riveting, edgy and fast driving. The music is rockin and the lyrics are realistic. The music makes you want to move and the lyrics will wake you up to both sides of life.
"Diamonds and Demons" makes us look at ourselves in an entirely different way. I love the way Maged takes the music and can express exactly what each and every one of us has experienced at some point in our lives.
Maged pulls on real life situations to express the real life issues we face every day. He takes the hard stuff, the tough stuff and turns it into a musical sound bite that challenges us to face up to what society is doing to itself. He takes the personal side of tragedy and turns it into a inspiration to overcome.
Blending this emotional expression with a passion to wake up the world he uses his magnetic energy to take rock and roll all the way to the next level, the outer stratosphere.
Inspired by artists such as Elvis Costello, Pearl Jame, Springsteen and Billy Joel, Maged is magical. "Blind Faith" is one of my favorites. It opens with a beautiful piano rift and then bursts into a heart pounding full rock out explosion. It speaks of birth to death and how society tempts us to live by others rules. We loose ourselves. It brings about doubt and loneliness when we sell out ourselves for something of blind faith. Beautiful.
Please check out Paul Maged at the following sites and jump on board with this new album. You'll love it.
Websites:
www.paulmaged.com
www.facebook.com/paulmagedmusic
www.twitter.com/themagedman
Music video links:
www.youtube.com/paulmagedmusic
September 02, 2014
Listen up: the world is broken and Paul Maged can't take it anymore. At least that's what his sophomore effort, Diamonds and Demons, will have you believing. As a New York based performer who has dabbled in both stand-up comedy and acting, Maged has always been a musician at heart. He studied music at the Boston Conservatory, attended the American Musical & Dramatic Academy in New York, and over the few years has honed his craft. His lyrics could be described as acidically wry, no doubt his style of stand-up comedy informed this, and there is nothing that he won't point his machine gun songs at, whether it be spiritualism, terrorism, warfare, Wall Street, and mortality itself.
Diamonds and Demons finds Maged on typically aggressive form. Opener Look at Me is a stirring blast of bile against posers who have no substance. Propelled by the kind of guitar sound that Elvis Costello made popular, Look at Me is a monster of a mission statement. On Cause and Effect, he sings about a killing spree that is all down to God's will. Sure, the man upstairs is a bit of an easy target these days, yet Maged palms him off as a comedic aside in his quest for world sanity. The title track takes up the mantle left by The Hold Steady, although with a shot of Red Bull instead of scotch. The excellent Blind Faith (which is probably the best song never featured on Scrubs) starts as a sombre piano ballad before morphing into a breezy riff-filled lament on society. Annastasia meanwhile shows that Maged isn't too cool to talk about love and loss. A tricky ballad that come close to Ryan Adams territory as Maged paints a picture of disenfranchised outsiders and their struggles in the modern world.
Written while on vacation in Cape Cod, Paul Maged has poured his uniquely cynical world view into a of catchy pop rock songs that have you debating the big questions in your head as you sing your bloody heart out.
Quick Fire Review:
Out of Ten: 8
Best Tracks: Look at Me, Cause and Effect, Diamonds and Demons
Listen to If: you're a fan of The Shins, and you like your themes and your music big.
August 19, 2014
On Soundcloud, Colleenstracks is delighted with the opening line of "Look at Me": "Good morning miss sunshine who are you gonna walk on today haha☺." I'm with Colleen, Paul Maged is a hell of a wordsmith and he's nailed that bitch to the T. We all know that bitch, right.
On Maged's latest record Diamonds & Demons, he embeds a sense of humor in his sharp observation of the world. From rampant narcissism to war, Maged's voice is the Roger Daltrey (the streamlined Tommy version) of now…if he had the wicked wit of Keith Moon and the evangelism of Elvis Costello.
The whole of Diamonds & Demons is craftily light considering the weight of the messaging. Maged can deliver some heavy thoughts while keeping it catchy as is noted on "Last Days" and "Human Warfare" or "My Dear Love."
Being able to make your audience think while playing air guitar on their bloody mary glass. That's a gift.
Diamonds & Demons is the follow up of Maged's In My Time, a thoughtful and compelling debut. On this record, Maged's sound has matured in the best possible way. He continues his special skill of thinking out loud with us, pondering the silly to the sublime, loneliness to the effective use of rage.
You'd think Maged would look like the road-weary musician, fitfully jaded from his journey, weathered in just the right way like the perfect vintage store leather jacket. But, surprisingly, these tunes are pouring out of a young man's soul, the musical version of Ron Livingston, brothers from another mother sharing an acid wit.
Like a lot of the new artists, Maged's music defies categorization. A singer-songwriter, sure. But there's the punk tones, the rock thrang and and an anthem conveyor belt always at the ready. This is what makes modern music so good these days. Fuck the genre. Embrace the music.
So you can either think along with Maged's lyrics or simply absorb the meaning through the melodies, head banging or cocktail aloft, absorbing your favorite acid rain sunset. It's your choice.
September 12, 2014
"Look At Me" is a solid example of personality flowing through quality songwriting. In this case, the track from NYC rock singer/songwriter Paul Maged shows an outspoken and passionate frontman in the vein of The Hold Steady's Craig Finn or The Pixies' Frank Black. Maged's new album, Diamonds & Demons, explores a "wide range of concepts, social issues and universal themes such as climate change, human warfare, religion and today's ever evolving society." "Look At Me", in particular, takes a biting stab at the prevalent role of greed and elitism in contemporary society, like when he asks a wall street suit which family's life he plans on ruining today. In addition to this lyrical focus is an infectious alt-rock delivery that's largely no-frills. Perhaps apart from the nice and quick piano interlude, any garage-rock setup is capable of playing it, and that's part of the charm, in addition to the central title-repeating chorus. Fun stuff from this NYC-based singer/songwriter, for sure, whose passion and outspokenness reminds me of early Pixies and Manic Street Preachers at points.
September 19, 2014
New York City recording artist and songwriter Paul Maged's sophomore album, "Diamonds & Demons" is the follow up to his debut record, "In My Time" which has been described as having a raw, garage band feel. "Diamonds & Demons" is produced by multi-platinum producer Sean Gill and to my ears the lead off single, "Look At Me", also has a garage band feel but with a catchy pop rock melody and the relatable lyrics of a band like Green Day. But that track is a bit of an anomaly. What follows is slicker and, well, prettier.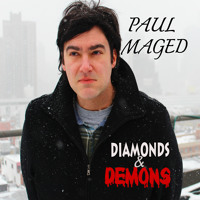 "Images" has a retro vibe that reminds me of San Francisco psychedelic with a slight Bubble Gum/ Novelty Song feel but with some very good vocals, not garage band style at all. That's not to disparage the garage band sound, which I often like, but I usually assume the band can't help but sound that way and obviously Paul Maged is not so limited.
Paul Maged claims to have been influenced by Pearl Jam, Green Day, Billy Joel, Elvis Costello and R.E.M. but I hear more Bryan Adams and Steve Perry from Journey on his clean, clear, soaring vocal style and on songs like "Last Days" you can even hear the ghost of Neal Schon on guitar. On songs like "Blind Faith" he follows the tradition of popsters like Billy Joel in his harder rock guise and I suppose the Elvis Costello influence comes out in his lyric writing.
His press kit claims "Paul Maged is an artist for a new age, having taken the common definition of a Singer-Songwriter and blown it away, creating his own sound infused with punk, grunge, classic rock, indie pop and balladeer, in the form of an Alternative Rock Artist," but I don't hear "Alternative", I hear a pretty traditional (Classic) Rock and Roll singer backed by a very competent guitar based band.
October 09, 2014
New York City's own Paul Maged has released Diamonds & Demons, his sophomore effort.
"Annastasia" features a roiling, deep, acoustic (at least at first) with Maged exploring some certainly Paul Simon sonic territory. I like how the shunky sounding almost off-time snare and fat bass inform the song as it opens up. "Blind Faith" is a plodding, simple piano tune with Maged's higher range rolling over the top, then guitars come in and we are in tight, poppy territory. Those flangy guitars and quite a good jumping bass riffing push the even faster, super commercial "Cause & Effect" as well as the album's title track, the latter tune featuring a snappy, sardonic lyric, one of the best here I feel.
I like the single-note riffs, tom tom beats and quick lyric of the very fun "Images," another fast tune, but one I feel works well with Maged pinning his vocal just perfectly and the Buddhist chanting behind it. The powerful, slightly slower, snappy snare of "Last Days" grooves really well too.
"Paradise Island," with its island waves-chorus-ode-to-Jimmy Buffet, is truly great stuff and probably the most unique sounding tune here, while I do like the short "What is Peace Exitlude," again with that chanting, a plucky guitar, but ironically probably the best vocal performance from Maged on the entire album, too short as it is though
October 01, 2014
Paul Maged – Diamonds & Demons

There is an uncompromising snicker and sneer to Paul Maged's voice that reminds me of a healthy cross between Elvis Costello and a pissed off Billy Joel. The music itself carries a whip crack urgency that is not unlike Pearl Jam at their most raw. Charged with political stance and thought, Paul Maged second album titled Diamonds & Demons is in your face and carries some strong personal opinions that one might do well to prick an ear to.
To some it may seem that the New York native is taking himself too seriously, but I'm not necessarily of that mind. I think he definitely has some ideas about the change he'd like to see in the world but he's not hammering it into your skull without a sense of humour present on the other hand. Sure the music sometimes rips and the lyrics are pointed in the direction of social ills, evolution, and the need for change, but I don't feel the least bit preached at. These are the things he feels passionate about and kudos to him for laying it out bare naked and raw.
Maged, a well seasoned musician who has studied at the Boston conservatory for music and has a rich background in stage and theatrical work brings passion to his craft while his band keeps the pace, laying into their instruments with the ragged glory of care free reckless rock abandon.
"Look At Me" opens perfectly and spreads like a house on fire while Maged wastes no time standing with a hand held high in a fist while the other hits the guitar strings hard.
"Last Days" has a great intro leading into a tune that teeters the edge between The Who and Pearl Jam territory, while "Annastasia" shows off another side of Maged. With its prog-folk-rock sweetness tapping into his inner Gentle Giant/Jethro Tull, Paul Maged again proves that he's no one trick pony and has as many layers as he has ideas to share.
Maged is a surprising musician who doesn't rely too heavily on his influences to get the point across, instead using them to bolster his own unique take on scrappy punk, 70's prog rock, and modern day alternative.
I look forward to seeing this young musician continue to grow and expand into even greater territory.